Dr. Sriyanka Lahiri
Assistant Professor of Entomology and Nematology
Dr. Sriyanka Lahiri's research program focuses on developing management strategies for insect and mite pests of small fruit crops, including strawberry, blueberry, and blackberry.
Emphasis is put on determining basic and applied ecological knowledge of pests and their natural enemies and competitor species. This knowledge will be used to better integrate biological and chemical, cultural, physical and other controls.
Dr. Lahiri collaborates locally, nationally and internationally with researchers from multiple disciplines and works closely with industry and grower groups to identify and address pest concerns.
Extension

Extension activities of this program will be geared towards reduced cost of production, while meeting current crop production standards and public expectations. Through workshops, educational materials available online and in-person communication, this program will be able to help the growers and general public with correct identification of pests and associated crop damage. This, in turn, will hlep them make the most informed decision and manage their farms efficiently.

Lab Team

| Staff Member | Contact Information |
| --- | --- |
| Lovely Adhikary, Grad Student | |
| Allan Busuulwa, Grad Student | |
| Sherline Estaing, Research Scholar | |
| Gagandeep Kaur, Grad Student | |
| Diem Nyguen, OPS Tech | |
| Chastity Perry, OPS Tech | |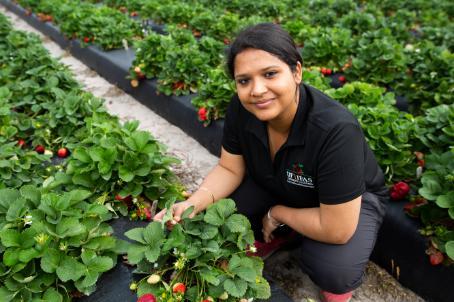 Contact
Rm. 128
Gulf Coast Research and Education Center
14625 County Road 672
Wimauma, FL 33598
813-419-6585
lahiris@ufl.edu

Education

Education:

Ph.D. North Carolina State University, Raleigh, NC 2014, Entomology
M.Phil. University of New Dehli, India 2010, Zoology
M.S. Unversity of New Dehli, India, 2008, Environmental Studies
B.S. Unversity of New Dehli, India, 2006, Zoology