Dr. Natalia Peres
Professor of Plant Pathology
Dr. Natalia Peres conducts basic and applied research on important diseases affecting strawberry production in Florida.
The goal of her program is to develop a better understanding of the etiology of the diseases and the environmental factors affecting their development, and to provide more effective disease control recommendations.
Dr. Peres also works closely with the strawberry and the ornamental breeders on developing cultivars with some level of disease resistance and oversees the Plant Disease Diagnostic Clinic.
Research

The goals of Dr. Peres' research program are to develop a better understanding of strawberry disease etiology and the environmental factors affecting their development as well as to develop effective and sustainable disease control methods that will help reduce fungicide applications and lower grower costs.

In one of my major research projects, disease prediction models have been evaluated and compared to the standard program of protective fungicide applications.

A web-based system to predict the risk for anthracnose and Botrytis fruit rot epidemics was then developed, enabling strawberry growers to reduce the number and properly time fungicide applications without compromising disease control.

Extension

Strawberries are one of the most valuable crops in Florida. However, diseases, such as Botrytis and anthracnose fruit rots, often threaten the production of this high-value crop.

Some other diseases, such as powdery mildew, angular leaf spot, crown rot and root diseases, can also be limiting when environmental conditions are favorable.

The Extension program provides the research results on developing sustainable and more profitable strategies for managing strawberry diseases to commercial growers, Extension agents, industry personnel, and other scientists.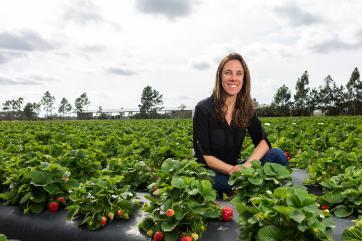 Contact
Rm. 161
Gulf Coast Research and Education Center
14625 County Road 672
Wimauma, FL 33598
813-419-6602
nperes@ufl.edu

Education

Education:

Ph.D. Plant Pathology, São Paulo State University, Brazil, 2002
M.S. Horticulture, São Paulo State University, Brazil, 1998
B.S. Agronomy, São Paulo State University, Brazil, 1995

Professional Service and Awards

UF/IFAS, High Impact Research Publication, 2013
American Phytopathological Society, Senior Editor for Plant Disease, 2013–2015
University of Florida Research Foundation Professor Award, 2011
University of Florida, GCREC Faculty Award, 2011
University of Florida, Excellence Award for Assistant Professor, 2010
American Phytopathological Society, Associate Editor for Plant Disease, 2009–2011
American Phytopathological Society, Associate Editor for APSnet Education Center, 2009–2011
UF/IFAS, Richard L. Jones New Faculty Research Award, 2008
American Phytopathological Society, Chair Pathogen Resistance Committee, 2008
UF/IFAS, International Achievement Award, 2007
UF/IFAS, Junior Faculty International Educator of the Year. 2007
American Phytopathological Society, William Boright Hewitt and Maybelle Ellen Ball Hewitt Award for Young Scientist Outstanding Contributions, 2007